Mirrors are one of the most fun and useful tools an interior designer has in their arsenal. You can use them to control so many elements of a room that it almost seems like every one must be a magic mirror! Ranging from simple, pragmatic designs that serve their reflective function to ornate and elegant décor accents, a mirror makes a great addition to any space.
While mirrors do tend to be pretty versatile, there is a right and a wrong way to use them. You want them to make your home feel open and bright—not like you're walking into a fun house! Luckily, we're here to steer you in the right direction. Follow these tips to use a mirror to turn a room into a sparkling, airy space of possibilities!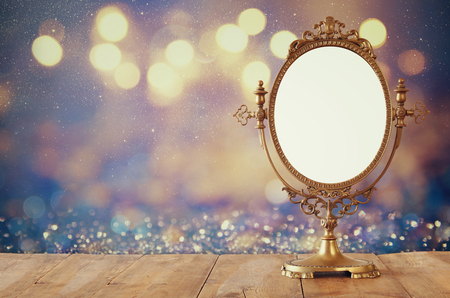 1.) Don't place a mirror just anywhere.
You can't use a mirror as just another space filler like you would with any old inexpensive piece of wall art you can find at a home store. It needs to be placed thoughtfully in order to get the desired effect. If you don't approach the installation of your mirror strategically, you'll miss the mark on making the most out of what could potentially be a radiant piece of home décor.
Also make sure when you're positioning your mirror that it doesn't reflect any unappealing spots or features of the room. You don't want to emphasize negative aspects of the room or its furnishings as these will be amplified by the mirror's reflection. See below for more tips on how to be strategic with your mirror placement.
2.) Make it a focal point.
An opulent mirror is an excellent solution for a room with no natural focal point or obvious purpose. Have fun with unique shapes and lavish frames if you want a splash of eccentricity in your décor! Even a large, simple mirror will capture the eye and add drama to a room—almost like a refined piece of wall art. Just be sure not to place a mirror on more than one wall and overwhelm the space.
If the room already has a focal feature, use a mirror to exaggerate it. Place it over the mantel of a rustic fireplace in the den or behind the bed in the master bedroom.
3.) Use them to enhance your space.
Mirrors are one of a home stager's go-to tools for making a room look bigger. Use them to double the amount of perceived space, transforming small rooms and narrow hallways.
The light that a mirror reflects throughout the room will give the illusion of depth and an expansive feel to the space. Play around with visuals to keep your home feeling interesting, friendly, and spacious. Consider using a large, leaning floor mirror to add depth to a small bedroom or dark hallway.
4.) Illuminate dark areas.
Speaking of light, a mirror is a great way to take advantage of both natural and artificial light and spread it across the room to spots that tend to stay in the shadows. Place one behind a lamp or next to a window to make the light bounce and bask the room in a welcoming glow. Or position it opposite from a window to reflect outdoor scenery and give the illusion of an additional window on another wall!
Strategically placing a mirror to optimize the light in a room is a great way to create a warm, bright atmosphere and establish some ambiance. Just remember that if you place a mirror where it will catch hours of direct sunlight that the sun can dull its reflective quality over time. If possible, position your mirror at an angle that catches the light but doesn't bake the glass.
5.) Control the symmetry of a room.
The reflective qualities of a mirror make it ideal for framing the view of a room. Place a pair of mirrors around a doorway or window, for example, to reflect the room and create a sense of balance and harmony. Or, get creative with your positioning and use them to dictate an eclectic, more modern layout for a space!
If you're trying to take advantage of the power of the mirror to make your home more appealing for buyers, we know how to help. Don't risk botching a sale by overshadowing the best features of your house by using mirrors—or other furniture and décor—the wrong way!
At Red House Staging & Interiors, we'll use our interior design and home staging experience to ensure potential buyers will only be able to see the most attractive qualities of your home. Visit our website or give us a call to learn more about our expert staging solutions so you can get started on finding the best mirrors to use in your brand-new space!