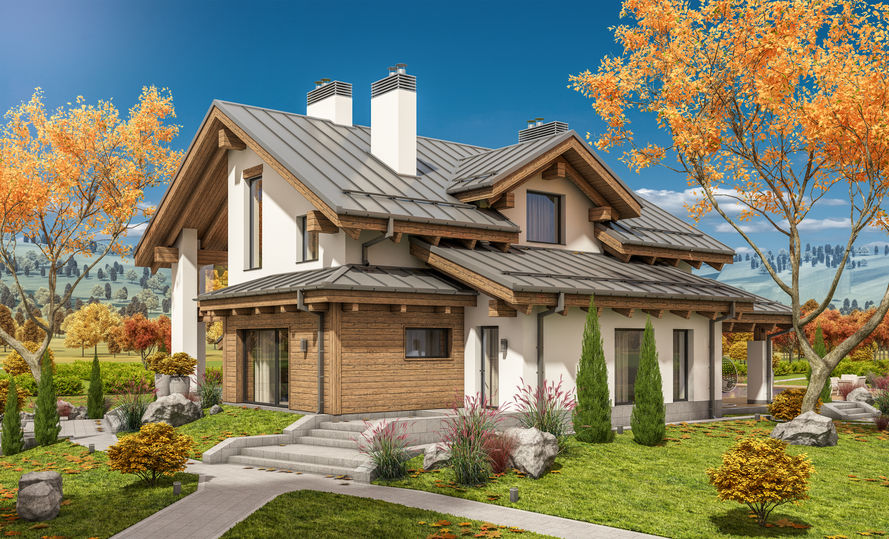 A lot of people hesitate to list their home once summer ends, for fear they'll miss out on a lucrative sale or be stuck on the market for weeks because it's the "offseason". The truth is, fall can actually be a pretty advantageous time to sell your property. With fewer competing homes and a more serious pool of buyers, your home could sell faster and at a higher price point than it would during peak real estate season!
If you're trying to sell your home in the fall, curb appeal should be one of your top priorities. We've got a few suggestions for capitalizing on fall's natural beauty to attract buyers to your property—check them out below!
1) Swap out your summer plants for fall blooms.
You don't have to let your yard become desolate just because the summer growth season is over. There are plenty of cold-weather-friendly plants you can tap in to make your home look like a vibrant fall dream. Mums, evergreens, goldenrod, and dahlias, are just a few of many options for your autumnal garden!
2) Update your porch furniture.
Don't put that patio set away just yet. Keep your summer porch furniture on display if you're selling your home in the fall and just add a few seasonal updates! Fall accessories like a cozy rug, tabletop fireplace, plaid blanket, or seasonal candle will really help create an inviting entryway. Even though it's cooler, you still want to show off those outdoor living spaces your buyers can use year-round.
3) Keep up with your landscaping.
There's still plenty to do to keep your yard looking clean and attractive when the temperatures drop. You'll want to start trimming back dead vegetation, shaping overgrown shrubbery, pruning trees, and don't forget to keep up with your raking! Your landscape is still your first impression, so you can't afford to slack on it even in the offseason.
4) Upgrade your exterior lighting.
When fall begins, you can expect more cloudy days and earlier sunsets. Make sure your home stays illuminated in the dark and grey and bring your landscape lighting up to date. If you can swing it, install some functional but ambient lighting along walkways, garden beds, and on porches. If you already have decent lighting, take an afternoon to wash your fixtures so as much light as possible can shine through.
With fewer homes on the market this time of year, Red House Staging & Interiors is always flush with great inventory for our fall clients. Take advantage of our stock and staging prowess and snatch up one of our home staging packages for your autumn sale.
Contact our team today to learn more about how we can help sell your property this fall!