When you list your home for sale, the first thing you specify is how many bedrooms and how many bathrooms it has. The importance of the bathroom to prospective buyers goes beyond just quantity though. How you present the bathroom in a house on the market has come to play a crucial role in the success of a home sale!
As you stage your home for sale, you'll likely be putting a lot of emphasis on the master bedroom and the living room to draw buyers in—but the bathroom is not to be overlooked. Many homes have modest to small sized bathrooms, but that's okay! Use these strategies to make a small bathroom look and feel like the perfect place for your potential buyers to get a positive start to their day!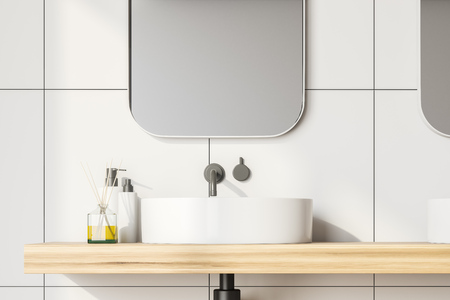 Clean everything.
A clean home is essential to a successful home sale, but the bathroom is an especially important area to keep tidy and sanitized. It's hard to feel like you can get clean yourself in a space that's already dirty.
Scrub the fixtures—bathtub, sink, toilet, etc.—until they shine like new! Clean the floor, walls, ceiling, windows, grout if you have tile, and doors as well. Water and humidity can cause some serious damage over time, so make sure you're thoroughly cleaning all the nooks and crannies you can find.
Remove all personal items.
Don't risk putting off potential buyers by leaving signs around of someone else using the bathroom—that's not something they want to think about when they imagine it as their own. Store all shower supplies, hair styling tools, makeup, etc. somewhere else for the time being.
Eliminating this clutter will make your small bathroom look more spacious too. Cramming your soaps and shampoos along the side of the tub makes it look like there's not enough room for them anywhere else.
Stick with neutral colors.
You want your towels, shower curtains, and rugs to blend in with the color scheme of the bathroom so they appear to take up less space. Add one or two pops of color to make it feel homey—a plant on the back of the toilet or the window sill is the perfect touch!
Neutral features also allow buyers to better envision their own style in the room and form an important connection with your home. Crisp white towels are also a nice touch to make the room as immaculate as a hotel bathroom.
Make it inviting.
Strategically using a few subtle décor accents will make a small bathroom feel cozy, rather than cramped. For example, a fresh coat of paint can do wonders for a tired bathroom, and a mirror on the wall across from the vanity can make the room appear larger. Slate blue-grey, light charcoal, pale grey, or gray-green hues all look great in bathrooms and make white tiles and accents pop!
Another good trick is to use high wattage light bulbs to brighten up the room and make it cheerful. The abundance of light bouncing through the room will give off the illusion of space as well.
At Red House Staging & Interiors, we use these and many other strategies to guarantee your home's presentation is flawless when it comes time to show it off to potential buyers! We offer several individual service packages to choose from to meet the needs of your budget and your home. Call or visit our website today to learn more about what our team can do for you!