Have you ever walked into someone's house and been reminded of a scientist's lab: blank walls, empty, sterile surfaces, and a cold shiver that reverberates throughout the room? Or have you walked into a home so filled with clutter or lack of design direction that it just feels like a garage sale? Neither atmosphere is likely to make you feel very warm and welcome. Luckily, we know some fun and easy ways to make a house feel more like a home and less like a padded room.
Making a space feel friendly and comforting is important when it comes to where we make our home, as this is the place we go to unwind and escape the stress and challenges of the day. Check out these suggestions for transforming your house into a home!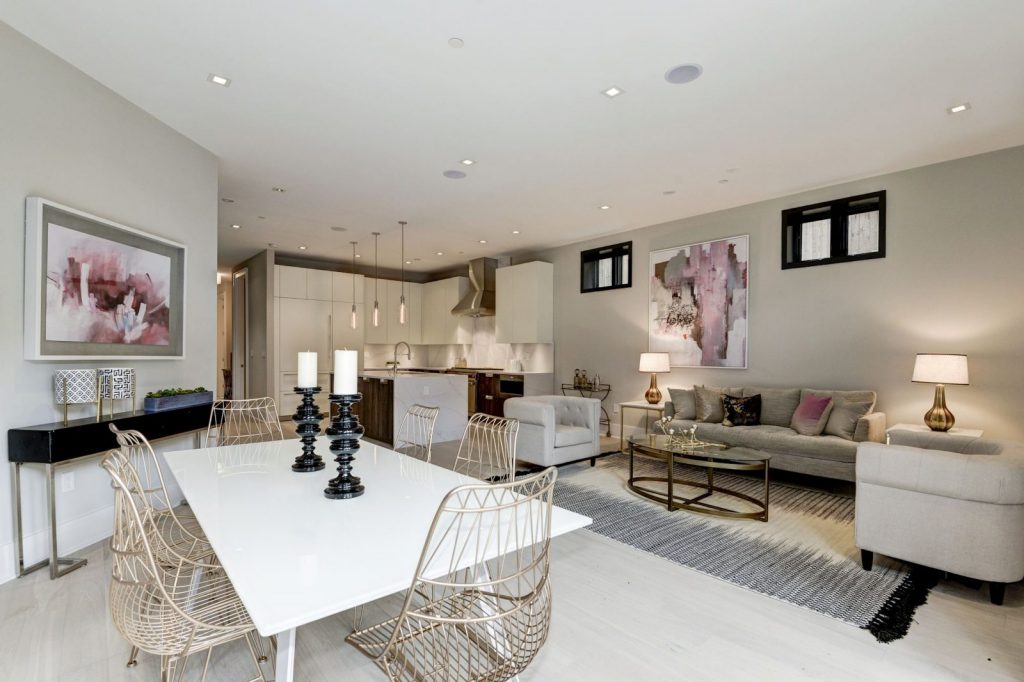 Express yourself with décor
Interior design is the perfect way to lay your claim to a space and make it feel like it's truly yours. Hang art that you find beautiful and inspiring. Choose pieces that speak to you for the wall, and make sure they're properly scaled. You don't want to hang a small piece on a large wall or an exceedingly wide piece on a narrow one.
Express yourself with tactfully placed décor. Display items that "spark joy" and complete the room visually. Décor is plentiful and versatile, which makes it a great tool for customizing your home and easily swapping out pieces as your tastes and the seasons change.
One great way to make a space feel finished is to add fabric window treatments to main windows.  Choose treatments of luxurious velvet for a classy upscale look or opt for something light and airy if you want to take advantage of the sun's rays and create a more casual effect. Don't make the mistake of hanging your rods right above the top of the window frame—instead hang them an inch from the top of the ceiling and make sure they reach the floor. 
Use area rugs that go with your design scheme and make you happy. These will help ground the space, give cohesion to the room and its furnishings, and make it feel more inviting and complete. 
Clean it up and make it comfortable
Who can sit back and relax surrounded by clutter and mess? A home should feel lived in, but it shouldn't remind you of your messy dorm room from days past or the clearance section at Walmart. An organized home makes for an unburdened mind.
Spending time keeping your surfaces and fabrics clean and decluttering your space is just as important as keeping it hygienic. Give yourself some room to spread out without worrying about knocking the half-empty soda can off your end table and onto the pile of books on the floor.
Make your space feel complete and welcoming with the use of throw pillows for your upholstery pieces and your bed—and don't forget to use throw blankets for a layered effect (and for cozy naps!) as well!
Notice how your home smells—create an enticing aroma using candles or essential oil diffusers. Candles are also great for fostering a warm glow throughout the house at night. And speaking of light, creating a cozy space in the evenings is best accomplished with task lighting from floor and table lamps as opposed to the harsh or dull light that comes from overhead lighting.
Personalize your space
Your space should be unique to you, so find ways to infuse it with your personality! A photo gallery wall in a hallway or a framed piece or two of your child's artwork can bring some personal distinction to your walls. Displaying that cool artifact from your last Europe trip or layering textiles on your bed or sofa that speak to you can be great personal touches.
Remember you can embrace your own style while creating drama and dimension in a room with wallpaper or a fun paint color for an accent wall. Painting an old piece of furniture a new color is another great way to personalize your space. Have fun with it!
Transforming your residence from empty house to warmhearted home is usually the most satisfying aspect of the moving process! Set yourself up for long-term success and happiness by putting the time and energy into making your home a comforting and welcoming place to be. This is also something you'll want to keep in mind if you decide to sell your home. If you find yourself having trouble with the process, consider hiring a professional to help you make your house feel like a home.
Staging your house to feel and look like a home is crucial to the showing process. While you don't want to make it quite so personal to your own life as to allow others to make a personal connection of their own, you do want to make sure a house on the market is beautifully decorated, clean and organized, and leaves potential buyers with a warm and approachable impression that compels them to invest emotionally in the space—and in turn invest financially.
Use these tips to adapt and customize your new house to your personal definition of home and let Red House Staging and Interiors keep your old one feeling just cozy enough to entice someone new!