Placing your home on the market requires more than simply ensuring your home is in the right condition to be sold. In order to generate buzz and increase the number of offers you receive, staging your home properly is essential.
Knowing how to effectively and efficiently declutter your home is a way to stage your home in a way that is inviting and motivating once you are ready to host your open house.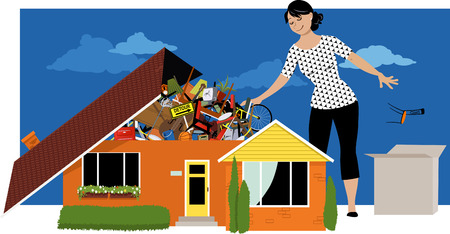 Declutter One Room at a Time
When you think of decluttering your entire home, you may feel overwhelmed and unmotivated to even get started. If you are unsure of where to begin when it comes to decluttering, start with one room at a time. Dedicate at least one hour of each day to decluttering one room in your home to prevent feeling too pressured, stressed out, or completely overwhelmed with the prospect of decluttering your entire house at once.
Categorize Your Clutter
Categorize the clutter you find while cleaning each room. Create separate piles for clutter: keep, donate, and trash. You can also organize your clutter into subcategories for even more detailed organization once you place the belongings into storage containers or boxes. Categorizing your clutter can help with expediting the process of storing, donating, or giving away the items you do not want to keep in your home while you are staging it.
Use Storage Boxes
Use storage boxes to keep track of the clutter in your home you intend to keep or even the items you plan to give away. Storage boxes are designed to withstand more weight and heavy items, allowing you to pack away your personal belongings and clutter with peace of mind. Use storage boxes to also keep track of your belongings by adding labels to the exterior of each box before moving them to your storage space or your new home.
Let Go of Unnecessary Belongings and Clutter
While it is not always easy, it is often necessary to let go of unnecessary clutter and belongings, especially if you are downsizing or moving across the country or internationally. Letting go of unnecessary items is a way for you to move with less hassle while also lightening the load once you arrive at your new home and begin to pack. Donate or throw away belongings and clutter that no longer serve a need or a purpose to you in your everyday life.
Thoroughly Clean Your Home

Once you have removed the majority of the clutter from your home, spend time conducting a deep clean. Thoroughly cleaning your home is imperative before hosting an open house or while staging your home for an upcoming tour and walk-through.
Not only is it important to vacuum, sweep, dust, mop, and complete traditional housework, but it is highly advisable to also conduct a deep-cleaning with additional tools. Steam clean your carpets, wax wooden floors, and be sure to clean all vents and baseboards throughout your home while you are in the process of staging it for a viewing.
The Importance of Functionality
Consider how functional your home's layout and furniture design is before hosting an open house or a viewing. Functionality matters, which is why redecorating the layout of your home may help with leaving a positive impression on prospective buyers who are interested in it. Consider how guests will move through your home, the paths they will take, and how you can make your home's layout appear extremely convenient to those who view it.
Make Your Home as Inviting as Possible
Create a welcoming environment in your home that is inviting and warm, especially if you are determined to pique the interest of those who are in a buyer's market. Select a warm and inviting color scheme for each room in your home based on the season you choose to show your house in. Implement decorative pillows, scented wax or candles, and throw blankets wherever appropriate to bring each space together while also showcasing the possibilities of your home to prospective buyers.
Taking the time to properly declutter your home for an upcoming open house is highly recommended, regardless of the current state of the homeowner's market. When you take the time you prepare your home for a staging, you not only show prospective buyers that you care, but you are also providing them with an opportunity to envision unlimited possibilities of their own in the space. With the right look and feel, quickly begin receiving offers and inquiries on any home you place on the market.
Contact Red House Staging to discuss our various staging options. We have a variety of services to handle all types of properties and budgets.