Are you about to embark on a new adventure with your furry friend? If you and your pet are moving to a new place to play, there are a few things you'll want to remember as you prepare to sell your home.
Not every potential buyer is going to be an animal lover. While you may think a house is not a home without your cat or dog, to some people a pet just means dirt, dander and damage. Play it safe and optimize your chances at selling by keeping your home free of any signs of Fluffy!
Follow these tips when you put your house on the market or save yourself the trouble entirely and contact a staging service to ensure your house is in top shape for selling at the best price.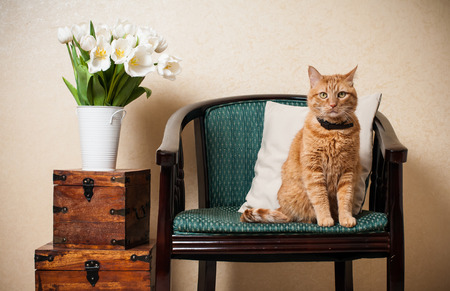 Keep it Clean
A clean home is essential to its marketability—especially for pet owners. The first step you take after putting your house up for sale should be to thoroughly clean every inch of space you have. Get rid of any stains that signal an animal's presence, as they can be a big turn off for potential buyers. Forgot about that disgusting, crusty spot on the living room carpet under the table where Buster threw up last week? You just lost a buyer.
Don't just gloss over tainted spots; get down on your hands and knees if you have to in order to completely sterilize and remove old stains from animal urine or excrement. Don't forget about the yard either; start scooping that poop so someone doesn't walk outside and step in it! It might be the only thing they remember about the house.
Be sure to fix any damage your pets may have caused throughout the years; chewed table corners, scratched wooden surfaces or claw marks in the paint or carpet, even holes outside where your dog hides his treasure. Give your walls a quick paint touch-up or get a stain filler for superficial marks on hardwood floors.
Hire a professional cleaning service if necessary, and splurge for the carpet shampoo—we guarantee it will make all the difference! Most importantly; the vacuum is your new best friend. Use it in every room of the house once or twice a day the entire time your house is on the market, and on your furniture too. Animal hair and dander—as most pet owners are painfully aware—accumulates rapidly and in great abundance.
Eliminate Odor
Your nose may have tuned out the cat litter box years ago, but there's a good chance that the future owner of your house hasn't! Give a nice deep clean to any carpets or furniture that may be embedded with the smell of your pet; or be on the safe side and just get rid of it all together and substitute it with staging furniture. Use special pet cleansers or an enzyme disinfectant for the best results. Ozone machines are another option to explore if the odors are really permeating a space and you can't get rid of the smell.
Let nature give you a hand by keeping your windows open to air out the house. Give the vents a good cleaning as well to prevent the stench you removed from being blown right back into the air. You may think an air freshener would be a good tool to use but be weary—potential buyers may have allergies and sensitivities that strong scents (such as pet odor and air fresheners) can irritate.
Double check that the odor is really gone by having a friend or neighbor stop by and take a quick whiff. Like we said before, you're so used to the smell of your house and your pets that you probably won't be able to tell if it's there or not.
Get Rid of Reminders
Try not to emphasize the presence of your pet to potential buyers during showings by leaving various pet supplies lying around. Pack up the chew toys, cat tree, and hamster wheel and toss them in your car. You'll want to remove food and water bowls, litter boxes and puppy pads, cages, crates and other carriers as well; and seal up those doggie doors too. Scan the house inside and outside for these items, and anything else that signals your home belongs to an animal.
Keep it professional and remove any photos of your pets that may be displayed, and even any pictures online that you're using to sell your house that feature your pup chilling on the couch. It may seem insensitive or unnecessary to you, but you want future home owners to be able to visualize themselves living in a space, so they can build a connection that'll compel them to buy—items that are personal to you make that difficult to do.
The most glaring reminder of your pet would be, of course, your pet. Take your pooch to the local dog park during showings or if you have a friend who is also an animal lover, see if you can keep your kitty there while your house is on the market—with enough treats I'm sure your pet won't mind.
When you're prepping your house for the market, try to keep in mind that man's best friend isn't necessarily every man's best friend. Better yet, focus on your new home and let us worry about the old one. Red House Staging & Interior Design will take care of everything you need so you can work on transitioning your pet from one home to the next!