There are accessories and furnishings in our inventory right now that we cannot get enough of – in fact, Lyric, our lead buyer, struggles to keep up with the demand to keep our shelves stocked with our Project Managers' favorite go-to items. We use these for our staging installations and also for our interior decorating/redesign projects that we are hired for. Our next series of posts will be sharing these pieces of our inventory with you so that you can steal them for your own use!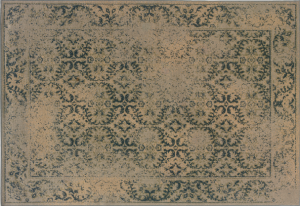 First out of the gate: we are loving using vintage looking rugs that have a faded, antiqued patina to them. They are so perfect in a variety of interior styles from contemporary to traditional. Here is an example of one such type we have in stock:
We buy these rugs new from one of our wholesale trade vendors in a variety of colors, styles and patterns (while we wish we could troll estate sales for the real deal, actual vintage rugs are way too pricey for most staging budgets and so we love these as the next best alternative). They have that aged look that we crave and are durable and withstand frequent use—and because of their vintage patina, they hide any stains or imperfections perfectly. We sell these rugs to the public as well – please contact us about purchasing if you would like to add one of these little dandies to your own look!
Here is a studio we staged this past week in DC where we used this particular style with great success!