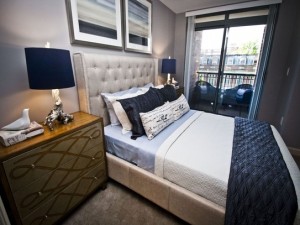 This bedroom is part of a model unit we did at Gables Residential Dupont Circle, and while we are in love with everything about this room, we really loved these little lamps—they completed the accessorizing of the space and were the sparkly "jewelry" for the room.  We have to restrain ourselves from buying a huge container of these StyleCraft lamps and sneaking them into every staging! We are now on the search for other nature inspired/sculptural lamps so that we can start a new obsession!
Readers, consider in your own spaces how the use of great lamps can add drama and interest to any room. Sometimes just replacing your lamps is the simplest and least expensive makeover you can do to a space!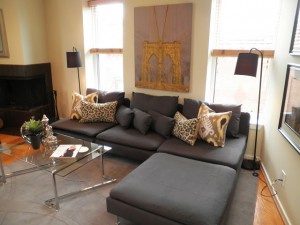 And, while we are on the topic of lamps… Here's a tip about adding ambient lighting when the space is too small for side tables. Use low profile floor lamps (no torchieres, please! let's let that fad die a quiet and peaceful death) to frame your space and the furniture. Do you see how, in the photo of the penthouse living room we staged below, just one lamp wouldn't have done the trick? These lamps are also from StyleCraft but we recently noticed a nice looking knock-off version at Target!