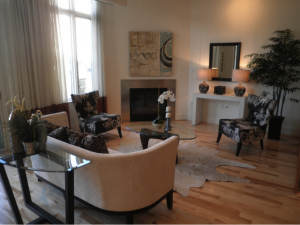 In this series, we are looking at commonly made mistakes that impact your living room's appeal and presentation.  This third mistake can be remedied without any monetary outlay and it will have a big impact on how your room shows! Read on to discover this third mistake and its solutions.
Mistake #3:
Now that we have tackled furniture placement and lighting, we need to turn our eyes to the walls. The single biggest mistake we see in the way of décor in living rooms is the placement and hanging of art work. It comes down to two things: scale issues, and the height at which a piece is hung. Without fail, many folks hang pieces of art, or mirrors or framed photos that are way too small for the wall space where they are hung and they are hung too high. What we are recommending here is just to consider your art placement and the scale—it may be what is throwing your room off from feeling complete.
While we can't teach all of the ins and outs of art work scale and what should be hung where, here are a few pointers to get you started. The proper scale of art to wall space ratio is not an exact science – it is actually often just a matter of eyeballing it and making the decision that the art work neither overweighs the wall area nor vice versa.  A little bitty picture should never be hung by itself on a big wall. It appears to just randomly be floating in space with no context or anything to anchor it. It looks so lonely! Either give it some friends to hang out with or put it in a cozier spot where it can be a little more snug in its space (i.e. a smaller, narrower area where the picture can be the star of the show, accenting the wall properly).  As a general rule of thumb (bearing in mind that this isn't the gospel here)a  big, huge, empty wall needs, at the minimum, a piece (or a group of pieces that take up the equivalent amount of space, once hung) that is just slightly smaller the  width of the largest piece of furniture on that wall (entertainment centers don't count here if they are tall armoires).  For example, if you have console table on a wall—or a sofa— you need to have at least as much artwork needed to anchor that piece of furniture; it usually works best to leave some breathing room on either side of it so that the furniture is wider than what is hung above it (though we might add that it can look very dramatic to have a giant piece of art, the same width, hung just an inch or so above a console table—or alternatively, a very narrow but very tall piece hung instead). There are many ways to skin this cat—art placement is an "art" in itself,  so we recommend playing with it, stepping back and looking at it critically and calling on a friend or two with an objective eye to look at it as well.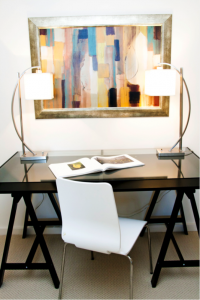 When it comes to the proper hanging height, use the rule of thumb of hanging pieces with the center point of the picture at about eye level for an average height woman (5'6"-5'7"or so). In other words, if you are over 5'9, lower that picture about 2-4 inches from where you would have a tendency to hang it. Lower hung art has a more dramatic and impacting presence in a room and it allows people of all heights to experience it.
Try changing up your art/wall décor scheme in your living room. Bring in one statement piece that can be the show-off in the room and let the other art play a more demure role in the background. You don't need art on all the walls of your room—in fact, that is usually a big no-no unless you are some crazy celebrity designer who is just so self-expressed that you can actually get away with it and your designs end up in some coffee table book that others spend a lot of money to buy to put on their coffee tables but never actually emulate what is inside because, at the end of the day, it is just a little too out there for all of our tastes. Fun to look at, not imitate.
…So,  that said if you have one or two dramatic pieces that draw attention to themselves and are large enough to command that attention, just the rest of the areas breathe already!
Bottom line, play with the scale, play with the height, play with the actual pieces you choose to display. Call in a friend with a good eye for their opinion and help with this if you don't feel confident in this area,  or consider hiring a decorating professional for an hour or two for their advice.
Happy Hanging!