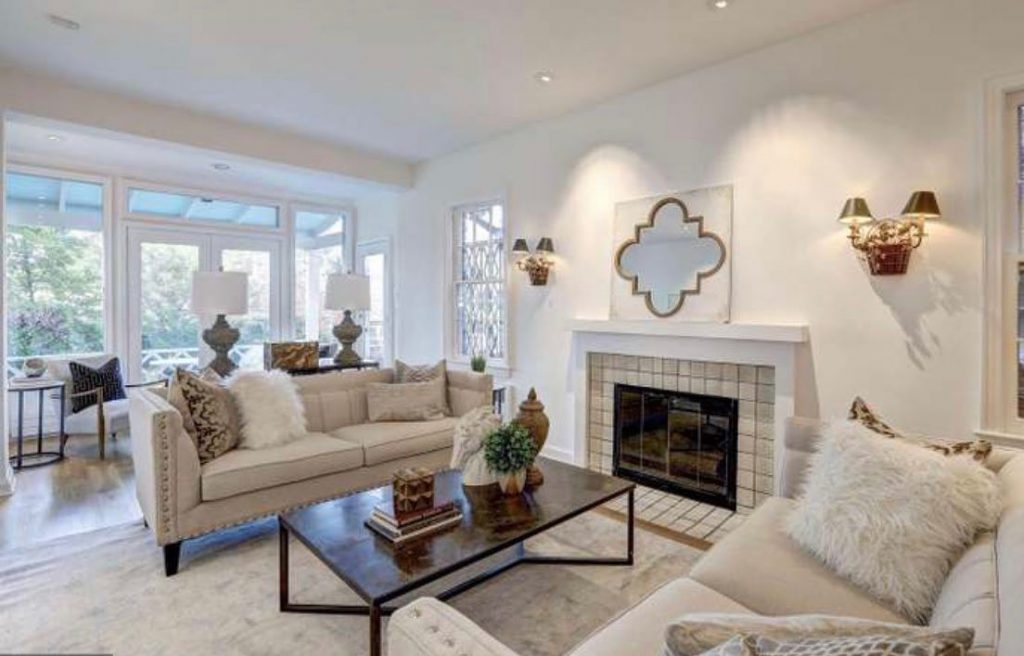 Who among us doesn't love a cozy fireplace? Nothing says home quite like the sound of a crackling fire ready to warm you up when you walk into a room. That's why when you're trying to sell the idea of your house as the perfect home to someone else, a fireplace can be a major advantage—if you know how to use it that is.
Check out our best tips for staging a room with a fireplace to capitalize on the appeal of this unique, inviting feature!
Use furniture to help make your fireplace the focal point.
A fireplace is a natural architectural focal point that immediately draws the eye. When staging a room with this standout feature, furniture and accessories should be arranged to accentuate it. Stage your biggest piece of furniture (such as the bed in a master bedroom or sofa in a living room) either directly across from the fireplace or perpendicular to it. Supporting pieces should be distributed as equally as possible on both sides to keep the room balanced.
Keep the area around your fireplace decluttered.
You want to have enough pieces to anchor your fireplace as the focal point of the room without overcrowding it. Avoid cluttering the mantel with too much décor, choosing just a few pieces that flow with the style of the rest of the room. Place one large statement piece on the wall above your fireplace to provide a visual backdrop.
Add color to the mantel.
If you're following the fundamental principles of home staging, your rooms should be styled with mostly neutral colors. Your fireplace mantel is the perfect opportunity to add a pop of color to give your space a little life and highlight one of your home's most appealing components. Seasonal flowers in a stylish vase or a colorful piece of artwork is all you need to do the trick.
Don't forget about the inside of the fireplace either.
When a fireplace is not in use, it can look a little bit like a dreary black hole. Keep your buyers from getting distracted by the void by adding a few touches to the inside of your fireplace too. Stage a few logs or a candle or two to add some dimension. If your fireplace has a free-standing screen, you should also remove it to open up the view.
At Red House Staging & Interiors, our specialty is staging your home to bring out its best features. Let our team of designers work their magic throughout your space and watch the high-value offers you're looking for come flying in.
Contact us today to get started with the right staging package for you and your home!