One of the questions we get most often from homeowners is "Is it really worth the extra effort to stage my basement? Can't I just stage the main living areas of my home and achieve the same impact? " While the basement may seem like a low priority in preparing your home for market, properly demonstrating its usefulness is a valuable asset in receiving the best responses from potential buyers and getting the offers you want.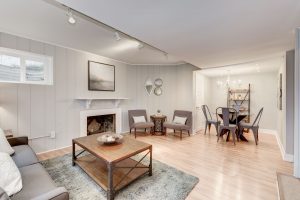 A finished basement adds to the marketability of your home, adding additional living space that can be used for a wide range of purposes. Helping a prospective buyer see themselves in the space helps them fall more in love with your home while also justifying the added cost of those extra square feet.
Below are examples of the small changes you can make on your own to get your basement into market-ready shape. Need additional help? Contact Red House Staging & Interiors to learn how we can transform your basement (and your whole house!) to make the biggest impact when you hit the market!
Ditch the Clutter
The first thing to do when staging a finished basement is to clean the space. You'll want to get rid of all unnecessary items, including forgotten storage. These items should be kept in an off-site storage facility if possible, or thrown away if unneeded. You'll also want to have the space professionally cleaned so that you know every nook and cranny is pristine.
Repurpose the Space
A basement is more than a storage unit, and that's what you're looking to showcase by staging the space for buyers. You can look for exciting and creative ways to repurpose the space to really help a buyer see the potential of your finished basement. Utilize exercise equipment and transform it into a workout utopia, or make it a gaming space by adding an entertainment system or play room.
Multipurpose furniture, such as a couch that doubles as a bed, can also make the area look more livable and versatile. However you stage the space, helping buyers who are viewing your home see value in this extra space will add value to your overall selling price.
Pick a Cooler Color Palette
Jaye Langmaid of design studio Hudson & Crane recently told The Washington Post that he recommends keeping the space cool when redecorating.
"Lighter, brighter, cooler colors help the walls recede," Langmaid said. This can be especially important for showing the possibilities within a finished basement, especially if it is a smaller area.
He suggests light blues and grays as a starting point. These colors make small rooms appear larger and they allow the illusion of natural light. This can help even a small amount of square footage seem like a much larger area to work with.
Utilize Mirrors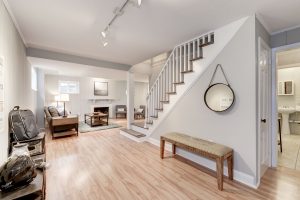 Finally, another way to create natural light is to add a mirror in your basement. The light will bounce around and spread throughout the area, and again, will make the space appear larger and more inviting.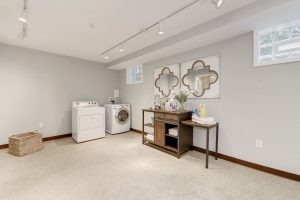 Basements present a variety of decorating challenges because of the low ceilings, little light availability and smaller spaces to work with. Red House Staging & Interiors offer creative strategies that will turn your basement from drab and ordinary to fab and extraordinary. Our home staging services are catered to your budget and spacing needs, and can help you put your basement – and your whole home – in the best possible light to attract interested buyers.
Learn more about how we can help you by giving us a call today at 202-257-2072, or check out our online portfolio today to see how we've helped other clients in Washington, D.C., Virginia and Maryland with their home staging needs.