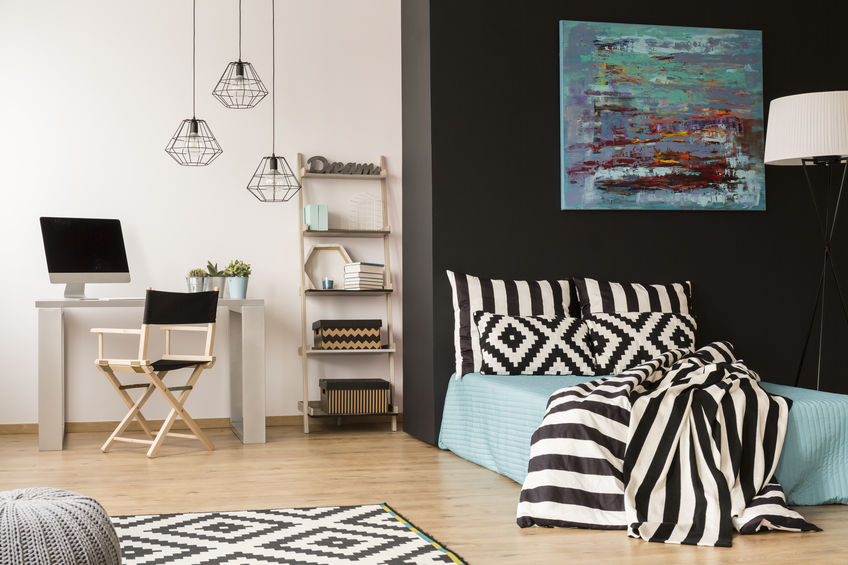 Although most people wouldn't call a studio apartment the ideal living situation, it can sometimes turn out to be your best option. For minimalists and individuals looking for cost-efficient housing (especially in a big city like D.C.), a studio may actually be the smartest choice.
It may take some time to arrange all of your furniture and belongings in a single space so that it doesn't feel cramped, but that doesn't mean it can't be done with style. Try using a few of these strategic decorating tips to make your tiny studio apartment feel more like home!
Use furniture and décor to create defined areas.
Don't make the mistake of approaching your studio as one big room when it comes to interior design. Instead, make your space feel bigger and more functional by establishing separate zones for sleeping, eating, entertaining, and working. Use area rugs, rooms dividers, bookcases, storage pieces, and furniture to section off and outline these areas.
Hang your curtains as high as you can.
Long, high-positioned curtains create the illusion of higher ceilings by drawing the eye upwards. This tactic is perfect for making a small studio seem larger and opening up your space. Bonus points for choosing light colors and fabrics for drapery that brightens up the space too.
Add a few bold accents.
You need to capitalize on every opportunity you can to create visual interest in a tight space like a studio apartment. Be careful to use enough pieces to make the room feel full, but not so many that it overcrowds (a thin line to walk in a space this small). Try mixing things up with oversized art, ornate mirrors, patterned accessories, or even a daring statement furniture piece.
Furnish with multifunctional pieces.
Double duty furniture is the studio apartment dweller's best friend. Pieces that can be easily hidden or serve multiple purposes will help you use your limited space efficiently. Consider items like a fold out bed (think Murphy or futon), hidden storage such as an ottoman that fits under the coffee table or a decorative trunk that doubles as extra seating, and a dining room table that can also function as a desk.
If you're trying to rent out or sell a studio apartment, making every inch of your small space count is more important than ever.
At Red House Staging & Interiors, we have plenty of experience transforming tight D.C. spaces into a prospective buyer's cozy dream haven. Our expert staging services can be customized to meet the needs of the tiniest studios, the most spacious luxury homes, and everything in between.
Contact our team today to learn more about how we can make your studio apartment or other property stand out on the market!