A lot of apartments for rent and brand-new homes are filled with a crisp, white interior to keep things simple while they're on the market. Your knee jerk reaction might make you feel like you're in a hospital room, but there's nothing wrong with white walls if you know how to use them!
Of course, you could always go the most direct route and paint a white room a new color. But if you're just trying to make it appeal to prospective buyers or looking for an easier solution, repainting is not your only option. There are a few handy techniques you can use to play off your white walls and make your space look elegant and inviting!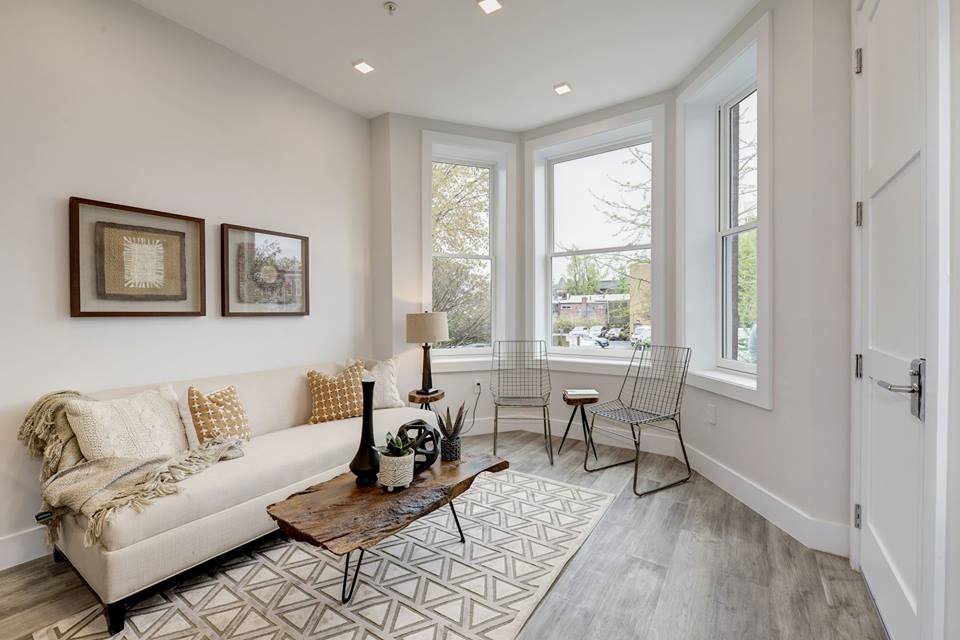 Use contrasting neutrals.
One approach to take for the interior design of an all-white space is to embrace the neutral color palette! Offset white walls with dark, rich colors on the opposite side of the color spectrum—like stark black or charcoal. Add a punch to the room by using these colors for the trim (black windows are very on trend now), a piece of furniture, or in the décor or art work.
Choose a dominant accent color.
Brighten up a white room with different shades of one vivid accent color. Repeating bursts of the same color will have a striking, minimalist effect on your space that can be a unique way to draw the eye. Choose a vibrant hue that won't be easily washed out by a sea of white. Be adventurous with a dramatic violet, coral, or bright and lively turquoise!
Give it a natural, earthy theme.
Use wooden accents and take on nature, to pull in natural tones that bring simple beauty to an all-white room. White walls make an excellent blank canvas for displaying bold greenery and warm, natural tones like rattan, grass cloth, jute, and sisal. Add a few pieces of refined, wooden furniture and soft, ambient lighting to cultivate a cozy atmosphere and rustic charm.
Play around with texture.
A white space is a great opportunity to try out rough and interesting textures that would usually overwhelm a more detailed design strategy. Add life to a monochromatic room with unique and lively throw pillows, rugs, wall art, and even furniture! Texture is a very useful tool for breaking up an otherwise dull space.
The design experts at Red House Staging & Interiors can help you turn your white space into a dazzling presentation of class that sets your home apart on the market! We'll use our skill, experience, and passion to stage your home and accentuate the features prospective buyers are looking for. Contact us today to learn more about the distinct packages we offer!