The concept of an open floor plan has steadily become one of the most popular trends for residential and office layouts over the past few years. The idea is to take two or more traditional spaces that are typically separated and join them together in one large, open area.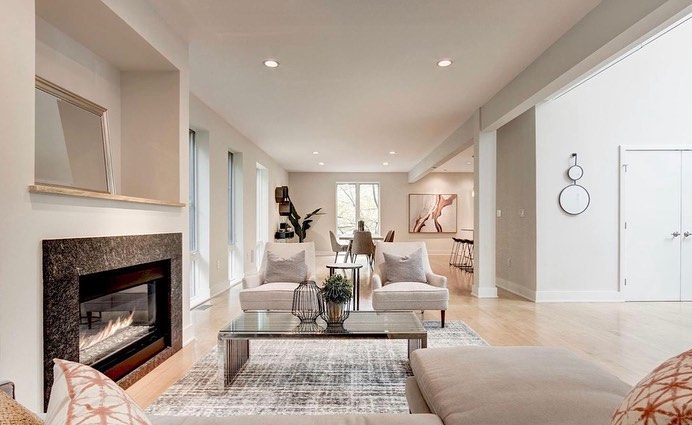 Open floor plans are a great tool for creating a warm, welcoming atmosphere that makes people feel at home in your space. With all the benefits this architectural style has to offer for boosting the appeal of your home, it's no wonder people can't get enough of it!
1) Make your space feel larger.
The secret of the open floor plan is the use of heavy-duty beams to hold up the floor above. This structure tricks the eye into seeing a bigger area and more usable space by eliminating the bulky walls that disrupt your line of vision. The lack of walls also helps improve traffic flow, allowing people to move around more freely.
2) Bring in more natural light.
Along with interrupting the flow of a room, walls often block much of the sunlight that comes in through your windows. In an open space, it'll be easier for natural light to flood in and brighten up your home. Not to mention the beautiful view of the outdoors that will be front and center in your expansive room!
3) It's ideal for entertaining.
One large, communal space serves as the perfect area for you to entertain friends and family in your home. The openness of the room creates an inviting ambiance and encourages conversation among your guests. It also makes it convenient to continue interacting with everyone in the living room as you prep the dining table or cook in the kitchen!
4) Keep an eye on your home.
An open floor plan allows you to easily see a large portion of your home right from your most used areas. You'll be able to supervise your dining room, kitchen, and living room all from one spot! For parents of small children and owners of rambunctious pets, this is a major advantage.
When it comes time to sell your home, an open floor plan will undoubtedly make your property stand out on the market—if you know how to use it! The experts at Red House Staging & Interiors will use today's leading home staging techniques make the most out of your unique space.
Give us a call today so we can help you find the best staging package to fit you and your home!