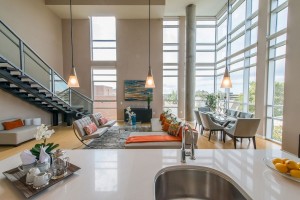 Staging your home is an important step in attracting positive attention and interest in a busy market. Whether your home is occupied or vacant, Red House Staging & Interiors can help you show it in the best possible condition. We offer a variety of staging solutions for home owners and realtors alike.
An empty property leaves too much exposed, highlighting any minor flaw and missing the opportunity to really sell a space for how it can be lived in. To create a model environment where potential buyers can really see their future lifestyle in that space, we recommend a full property staging. With an extensive and beautiful inventory of furniture and décor, Red House Staging will show off your property's assets and stimulate visual interest to attract the right buyer. Model units in multi unit complexes can also be staged and optimized in this way.
The installation process of staging a vacant property typically takes a day or two. While on the market, we can also return once a month, if needed to dust, vacuum and make sure all the accessories are in order. To learn more about each of our services and for a complimentary phone estimate, contact us at 202-257-2072.
Semi Occupied Property Staging
Homeowners frequently leave behind furniture while in the midst of moving. In these instances, the Red House team will use the existing furniture and possessions, while bringing in our own inventory to optimize the space for listing.
Occupied Consultations
We also offer a home analysis for homeowners still occupying their house while it is on the market. Have one of our home staging specialists visit your home and discuss with you changes in furniture arrangement, décor and more, that will make your house stand out.